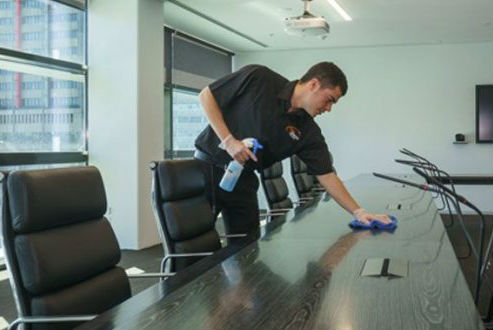 Cleaning & Hygiene Services
At One Planet Facility Services, we're proud to offer professional facility cleaning services as part of our facility management services. As one of the leading, we boast a team of highly trained and experienced experts who can guarantee excellent results. You can rely on us to keep your facilities clean and hygienic with regular contract cleaning that helps prevent the spread of bacteria and minimise the risk of illness.
Our cleaning and hygiene services are ideal for commercial workplaces throughout Melbourne, Sydney and Brisbane. By maintaining a hygienic workplace with our contract cleaning services, you can reduce the number of sick days that employees are forced to take as well as improve productivity.
We can assist you with:
Feminine sanitary product disposal – We can provide sanitary disposal units in the lady's bathroom facilities , keeping bathrooms hygienic. Our accredited team can also empty sanitary disposal units using appropriate methods.
Nappy disposal – As part of our facilities cleaning services, we offer waste disposal units that are specifically designed for dirty nappies, ensuring optimal hygiene and sanitation.
Air fresheners – Boasting anti-bacterial properties, our air fresheners are perfect for keeping the air fresh and sanitary. They're available in a range of fragrances and options to suit different requirements and preferences.
Hand washing/drying – We can install excellent hand washers and hand dryers for your washroom, promoting cleanliness and hygiene. Our premium solutions can help reduce the spread of germs and bacteria.
Deep urinal cleaning – Our contract cleaning can include deep urinal cleaning for male bathrooms facilities.
De-Fib equipment?
Learn More Today
If you're searching for facility cleaning companies who provide superior cleaning and hygiene services, there's no better choice than One Planet Facility Services. Get in touch with our friendly team today for more information about our facilities cleaning services in Sydney, Melbourne and Brisbane.
Call now
1300 175 263

Visit our offices
Unit 1, 25 Centre Way, Croydon South, Vic 3136.

Business owners should have peace of mind knowing that their facilities are safe and are operating cost-effectively. Fortunately, the team at One Planet Cleaning can provide professional facility management services. Whether you require once-off grounds maintenance or regular waste and recycling solutions, we have you covered.